Do your best work
Wagtail supports everyone's creativity
Whether you're a developer who wants the freedom to build a custom feature or an editor who wants to focus more on content than code, Wagtail supports the ingenuity of each member of a content team.
Control how content is displayed and how data is organised.
Editors love it because they have the freedom to build pages the way they want to without coding. Developers love it because StreamField gives them precise control over how content is displayed and how data is organised.
A tree structure that makes content easy to find and organise.
Use Django models to easily create and extend a custom architecture.
Reusable components that editors can use over and over again.
Create contact forms, surveys, and more.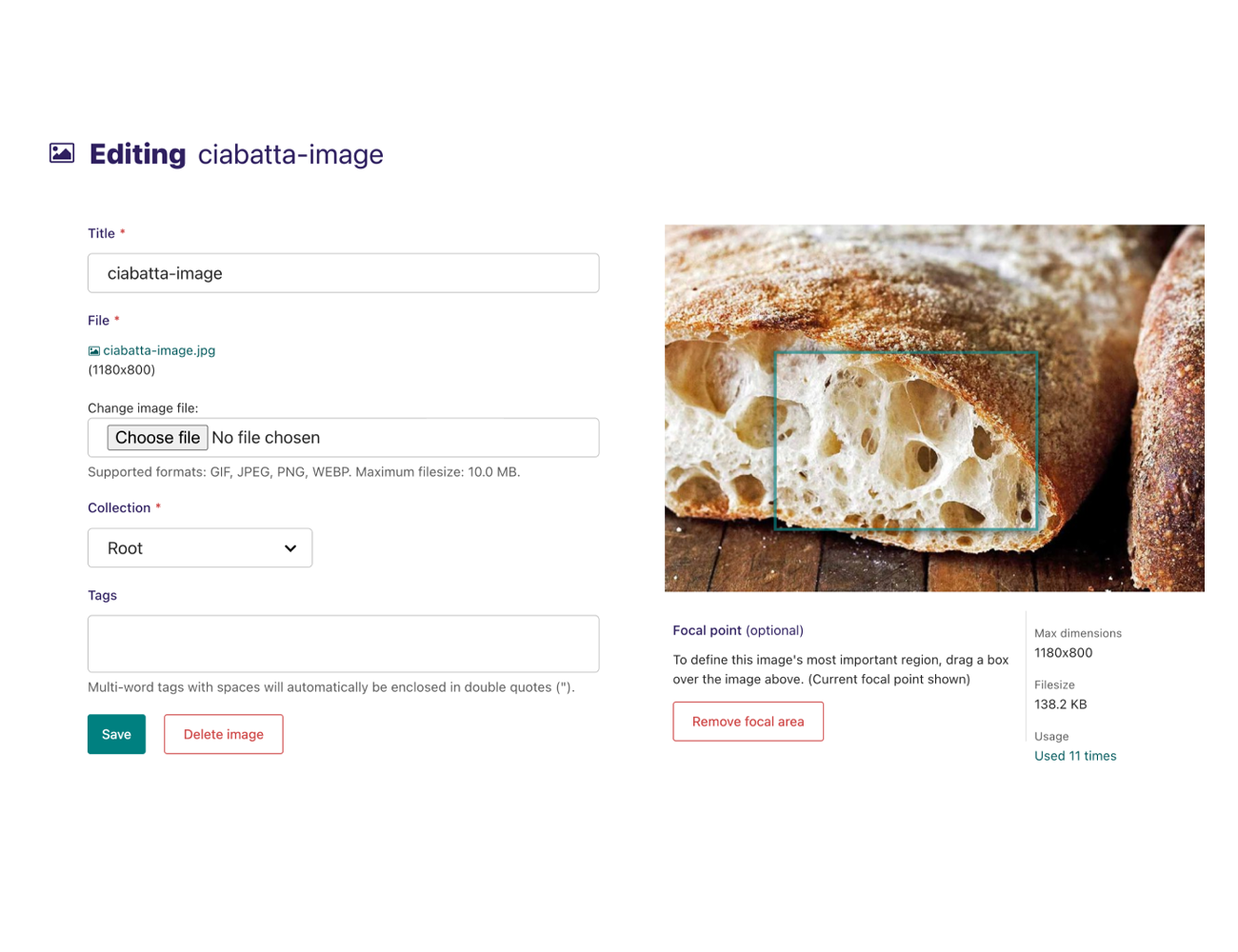 Keep your image library organised and under control.
With the image focal point and custom cropping tools in Wagtail, you have more control over how images are cropped and displayed. The multiple image upload and image deduplication features also help you keep your image library organised and under control
Frontend freedom
Integrate with the frontend technology of your choice
With the Wagtail templating system, your designers and frontend developers have complete frontend freedom. Wagtail can be integrated with the frontend technology of your choice, and you can even choose to operate Wagtail as a headless CMS with multiple frontends.
Create content with worldwide reach
Wagtail makes it easier to reach international audiences.
Out of the box, Wagtail supports different site versions for different languages and countries as well as translation of content directly in Wagtail. Combined with the open source wagtail-localise package, Wagtail gives you a powerful suite of tools to reach audiences around the world.
Open, extensible, and dependable
The code for Wagtail is completely open source.
Wagtail is powered by Python and Django, two of the most popular and powerful open source technologies available. The code for Wagtail is completely open source and supported by an active community and core contributors from agencies around the world. The founding creators, Torchbox, are an employee-owned trust dedicated to serving nonprofits and public organisations rather than investors. The source code is free and open so anyone can customise and extend Wagtail.
Advanced enterprise workflows
Designed to support content teams
Wagtail comes with features that support the whole publishing process from writing the first draft to copyediting to publication. Wagtail supports each step you need to create flawless content, no matter how many steps you need.
Full transparency into who has made changes
Control who can moderate, review, and publish content
Rollback to the version that you want to share with the world
Take full control over your editorial calendar
Editors can review and request content changes directly in Wagtail
With the Wagtail commenting feature, you don't need to fuss with collecting comments in another text editor. Email notifications also make it easy for you to know when new comments are made or a piece of content moves to the next step in your publishing process.
This Week in Wagtail
A weeklyish newsletter with Wagtail tips, news, and more.